---
Mark Krasna, M.D.
Medical Director
Cancer Institute at St. Joseph Medical Center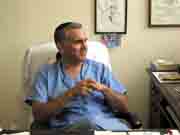 7505 Osler Dr., Suite 303
Towson, MD 21204
Phone: 410 427-2220
Fax: 410-427-2221
Primary Specialty
Surgery, Thoracic
Dr. Krasna is the former Head of the Division of Thoracic Surgery, Professor of Surgery and Associate Director for Surgical Oncology in the Greenebaum Cancer Center at the University of Maryland Medical Center
Dr. Krasna is a leader in the development of thoracic surgery. He is the author of the first textbook on thoracoscopic surgery and has instructed surgeons worldwide on his techniques. As associate director of the University of Maryland's Greenebaum Cancer Center, he has been instrumental in the overall cancer program. Dr. Krasna was the first to develop and institute the concept of multi-disciplinary care in modern cancer treatment. He has championed the idea of making cancer care a patient centered experience bringing different physician specialists to the bedside thereby eliminating the need for patients to make numerous visits.
In addition, Dr. Krasna is widely published with three books, over 35 book chapters, over 100 journal articles, 65 abstracts, and 6 films or audiovisual productions. He has presented and lectured throughout the world in his areas of expertise, which are lung cancer, esophageal cancer and thoracoscopy.
Dr. Krasna's clinical expertise and program development experience make him uniquely qualified to lead The Cancer Institute. In addition to his work at St. Joseph, Dr. Krasna is an advisor to Catholic Health Initiatives (CHI), St. Joseph's parent organization, in the development of a national cancer service line strategy for CHI's 70 hospitals and 40 cancer centers.
Memberships
American Association for Thoracic Surgery
Cardiothoracic Surgery Network
European Association for Cardio-Thoracic Surgery
General Thoracic Surgery Club
Southern Thoracic Surgical Association
The Society of Thoracic Surgeons
Medical School Education
Tel Aviv University - Sackler School of Medicine
Internship
Rotating Internship - Tel Hashomer Hospital
Residency
Categorical Surgery PGY I-V, UMDNJ - Robert Wood Johnson Medical School
Fellowship
Cardiothoracic Surgery, Harvard Medical School, New England Deaconess Hospital
Board Certifications
ECFMG #353-574-7
Advanced Trauma Life Support
Am. Board of Surg. #35613
Am. Board of Thoracic Surg. #5237
Am. Board of Thoracic Surg Recertification
CyberKnife Physician Training